HR Apps for Small Business
HR Apps & Software includes everything you would expect for a complete solution. High level data quality assured with one time data entry and freeing up from the routine task and saving your time.
Establish seamless integration, gain visibility into payroll analysis reports and get override features for all salary components.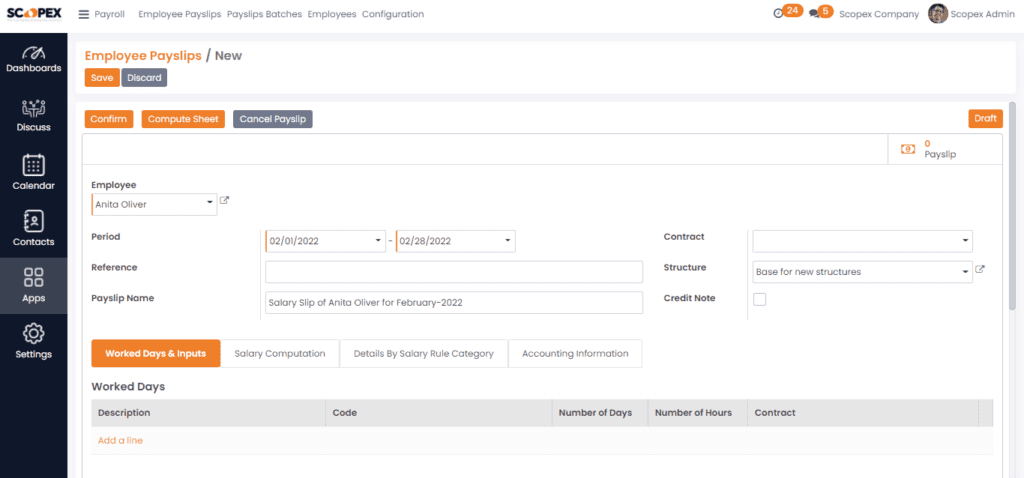 Create a simple or complex salary structure based on salary rules defined in the employee contract.
Generate work entries daily, weekly, or monthly.
Ensure Secure transactions with payslip generations.
Payroll analysis of an employee/employees to get visibility of workforce efficiency at a glance.
Secure transactions
Flexible user defined entry fields
Easy modifications
Customize feedback template, seamlessly record the appraisal evaluation reports.
Track and monitor the appraisal status of your workforce in a dashboard
Assist HR manager with better decisions in appraisal using the timesheet integration.
Get seamless integration across calendar, leaves, payroll, etc.
Get the timesheet reports by employees, projects, tasks, and billing type and define the appraisal.
Get visibility of weekly, monthly, yearly, and daily appraisal reports.
Schedule the deadline for an appraisal and trigger notification for the upcoming appraisal process.
Customize the feedback templates by the job.
Integrate and record the appraisal evaluation reports.
For some companies' attendance management is very important as it helps to determine whether the business is in right track. The module facilitates to manage employee leave, time off's, attendance by providing analytics and key insights for the company to manage the workforce/employee monitoring.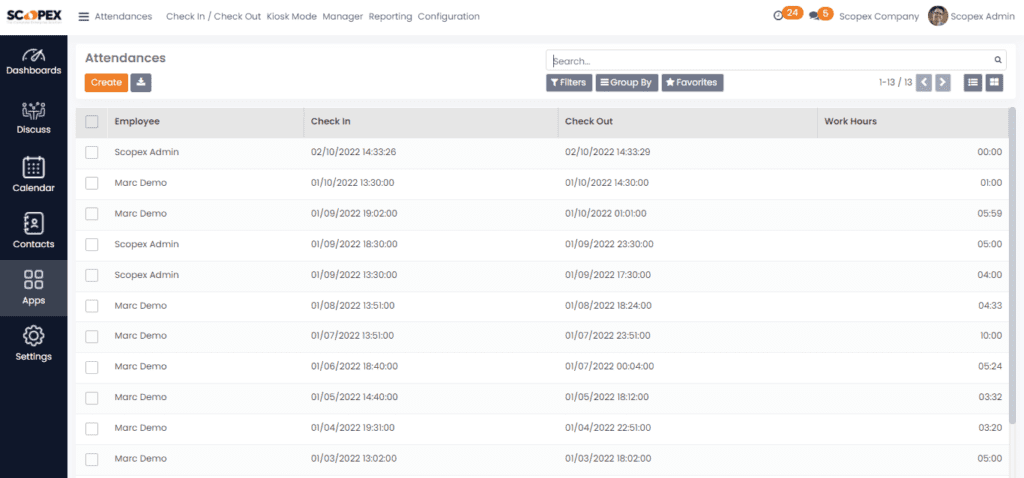 Attendance registers with biometric devices.
Web login and logout
Automated time sheet to track employee work time.
Time off and employee vacation management.
Access every detail of an employee in real-time.
Gather all information related to each employee in one place.
Create and manage business employee directory.
Create department hierarchy and add employees in a different department.
Configure and manage contracts.
Keep track of contract type, date, and schedule.
Store your employees' details, employee skills, and resumes.
Establish communication across the workforce in real-time.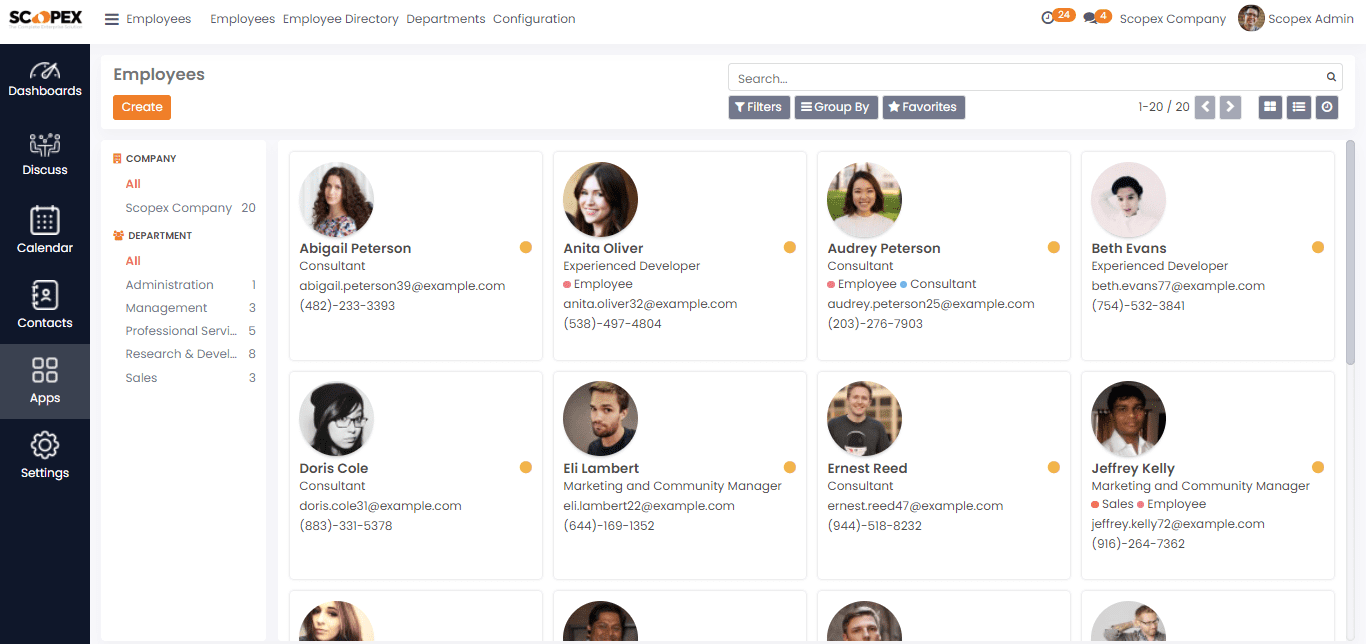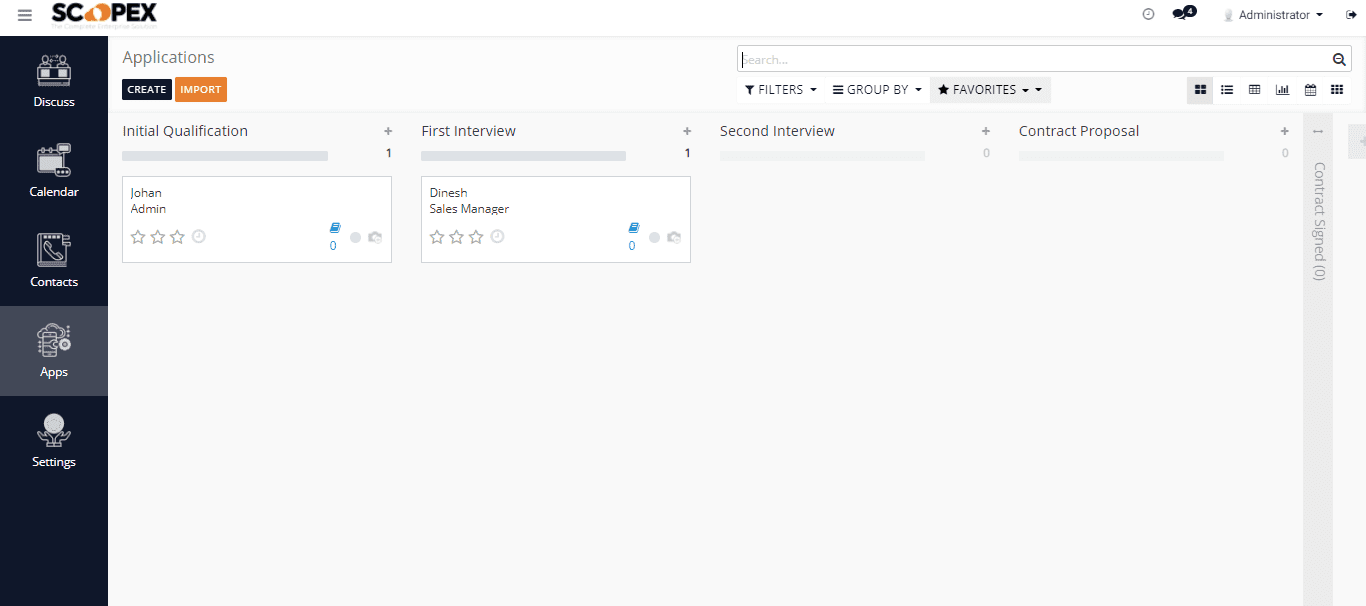 Automate and monitor all recruitment processes and make better recruitment decisions.
Configure recruitment criterias, stages, and qualifications.
Seamless third-party integration to create and publish the job positions.
Get the smart filters to find the relevant candidate.
Optimize recruitment budget planning.
Get a recruitment analysis report to make better recruitment decisions.
Leave claim and approval operations are as simple as a click.
Define and manage sick leaves, legal leaves, and holidays.
Get a comprehensive overview of paid time off, compensatory days, sick time off of custom period.
Get a different dashboard visibility per user - Employees, higher-level employees, and employers.
Track real-time the approval workflow from anywhere at any time.
Scopex leave application allows the employer to create their leave calendar.
Trigger alerts for pending leave approvals and hence improve the workforce efficiency.
Customize holidays by location, department, or user.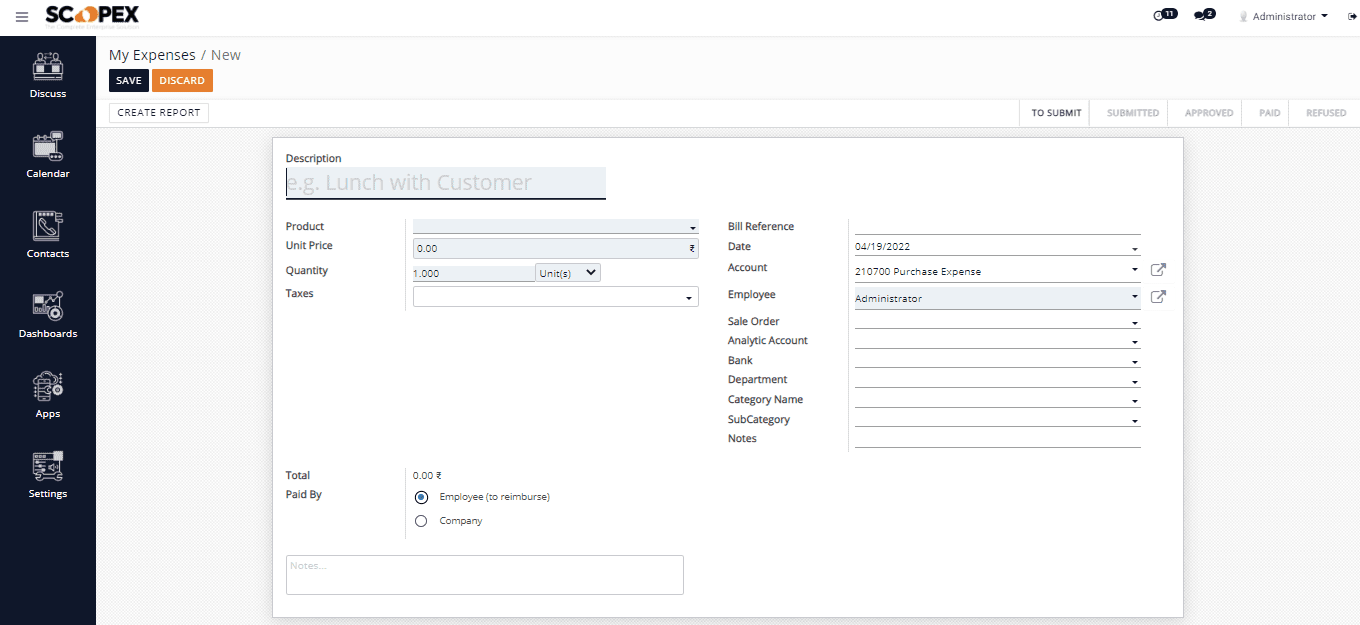 Track the expense report of employees and get an overview of team expenditure.
Track the expense reports of your employees on one page.
Create and manage cost reports. Analyze and document the expenses of your employees.
Get an overview of your team expenditure.
Monitor and control the project budget efficiently using expenditure reports.
Empower the workforce with the loan and advance salary feature.
Configure and define the loan and salary advance feature.
Automate and track the approval workflow in real-time.
Never miss the communication by recording it in real-time.
Establish seamless integration across the other module and save time and energy.
Get the complete details about employee leaves, approval, recruitment, and various analysis charts.
Get a comprehensive overview of the workforce and plan the work efficiently.
Establish centralization of data and track the workflow.
Know the workforce availability weekly, daily, monthly, and yearly at a glance.
Allocate the resources efficiently without hindrance gaining insights from the dashboard.
Make better decisions by gaining real-time visibility into stages of the HR process.
Personnel recruiting and on boarding
All in one solution to recruitment process. Core HR process is made easy by integrating smart filters to find a relevant candidate. This helps to easily access the source it originates from, monitor and follow all the submitted applications and optimise the recruitment budget planning.
Features of the module include
Create/publish job position
Filter and configure job positions,
Link the trackers
Recruitment analysis.
You will save time
You will achieve economic advantages
You will gain security in HR
All employees will gain more convenience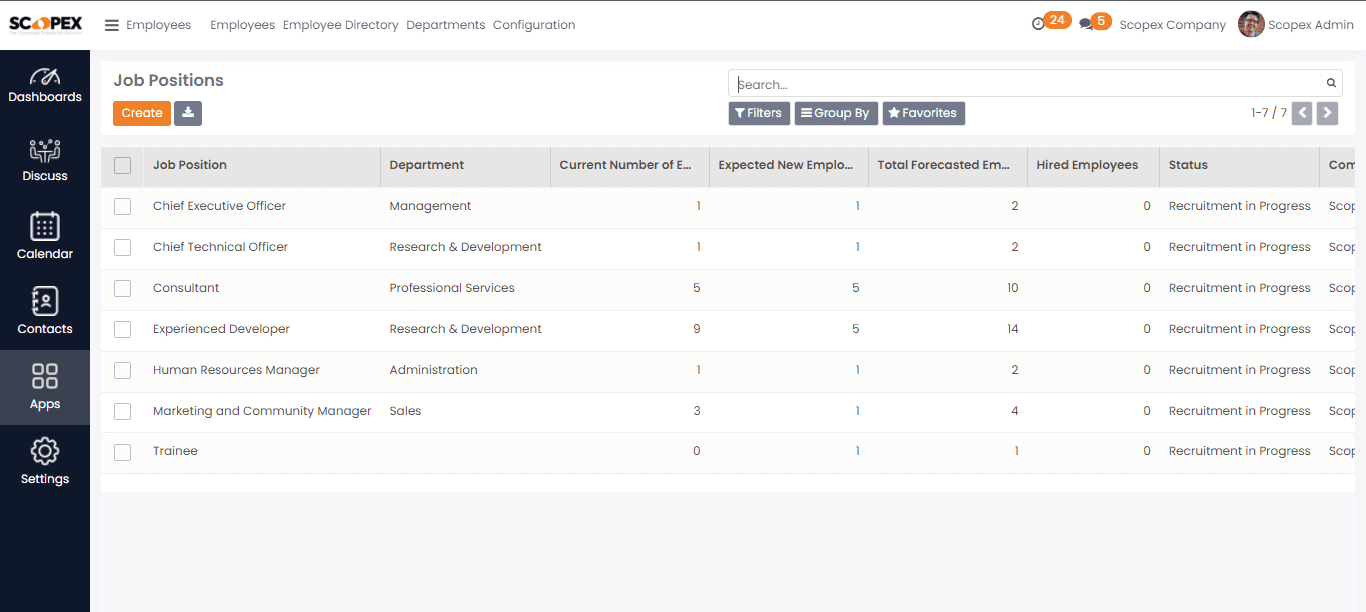 Helps employee to do their best work each day in order to achieve the larger goals of the company.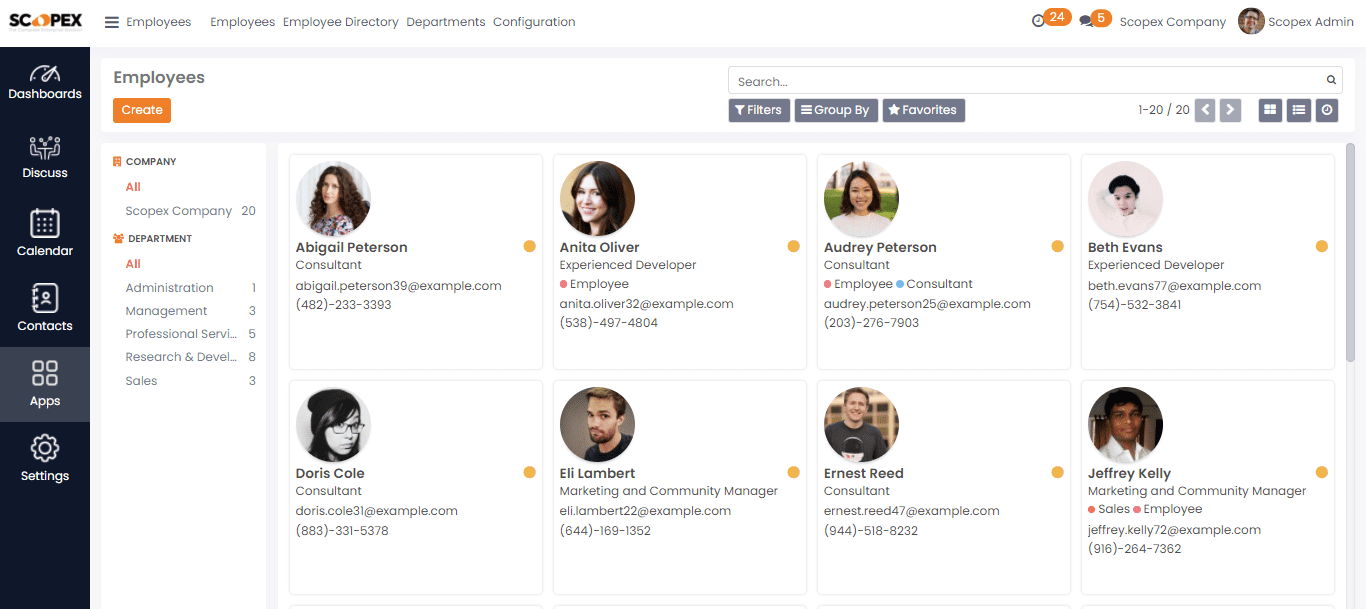 Run On boarding and off boarding of operations
Storage of employees' personal details
Store employees' skills and resumes.
This is a faster method compared to any traditional recruitment technique in bringing in the best candidates for the defined roles.
Share job openings with friends
Sharing jobs in email and social media
Gain points for each referral
Track the stages of referral recruitment
HR Payroll Software & App In India
Payroll Center Management system
Employee Leave Management system
Employee Allowance Management system
Attendance Management system
Over Time Management system
Scopex Apps provides a FREE Demo to all its client to play around with the product & get to know if it suits their business. Scopex apps also offer a 1 to 1 free demo session to explain how you can use Scopex apps for your business.
Scopex Apps provides low-cost HR software for FREE Demo to all its client to play around with the product & get to know if it suits their business. It also offer a 1 to 1 free demo session to explain how you can use Scopex apps for your business with less hr software price.
Why choose Scopex HR Apps?
Scopex HR mobile Apps software delivers incredible employee experiences, simplifies core HR, and builds a high-performing workforce.
Frequently Asked Questions

Recruitment is made hassle-free with automation. Thanks to Scopex HR Apps. It is a great value for money.


We were looking for an HR solution that could seamlessly integrate with our organization. We did analyze others vendors but we needed a better system. Finally, we are glad that we could find Scopex HR Apps. It has improved the overall efficiency of our HR Team and process.

Scopex HR Apps come with excellent customization abilities. Scopex team has offered great support to implement. Multilevel approval with criteria is simply an amazing feature.