It is an end-to-end agile project management solution that your team will love to work with. Connect people, projects, and productivity from anywhere, anytime. Collaborate in real-time, automate the workflow, plan and manage any projects efficiently using Scopex project Apps.
Get clarity with the workflow
Plan and execute the projects of any size.
Create, assign, organize, the task with ease.
Manage the teamwork by tracking the task effortlessly. 
Set project timeline, subtasks, and manage the team workload all in one place.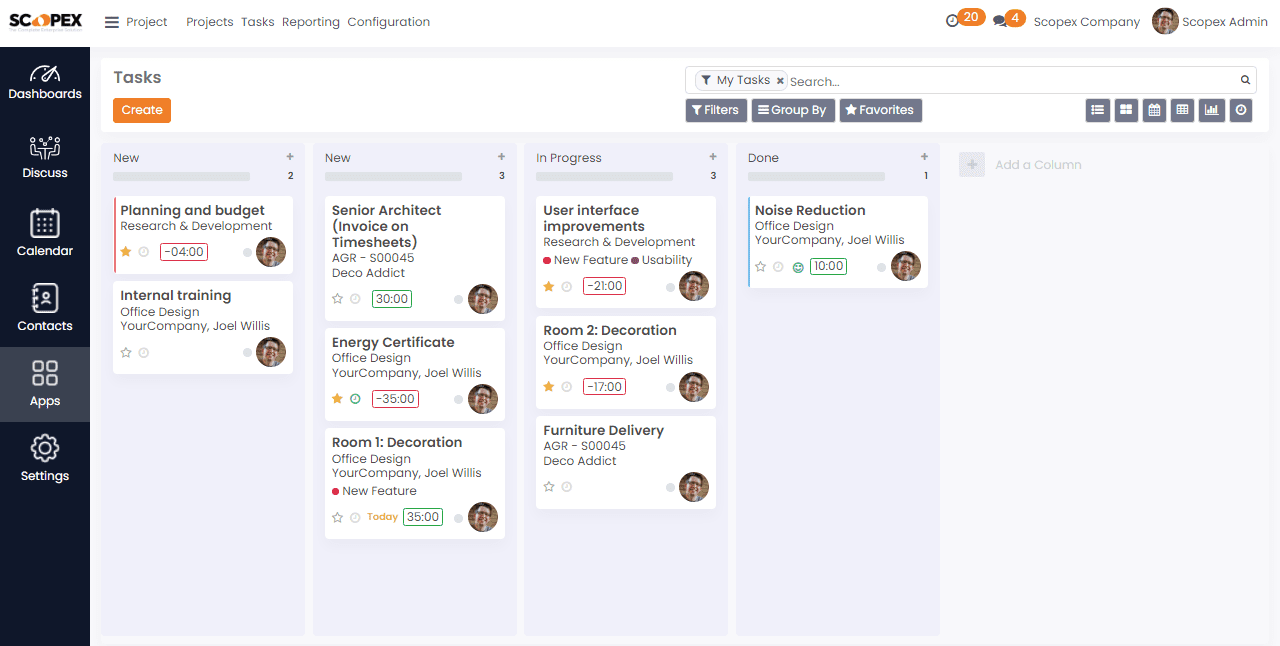 Plan a better Budget management
Earn more while you work together. Predict revenue and your employee performance.
Stay on top of your projects and know exactly where your projects are.
Compare the projects and know what's exactly occurring in your business.
Record expenses against projects and tasks.
Keep the expenditure under control by knowing approved and rejected expenditures by the project manager.
Keep everyone on the same page
Simplify your process and encourage employee collaboration with streamlined and centralized communication.
Scopex automates project handoff and lets you know the project completion duration with predictive roadmaps.
Know who is doing what in real-time for accountability and resource allocation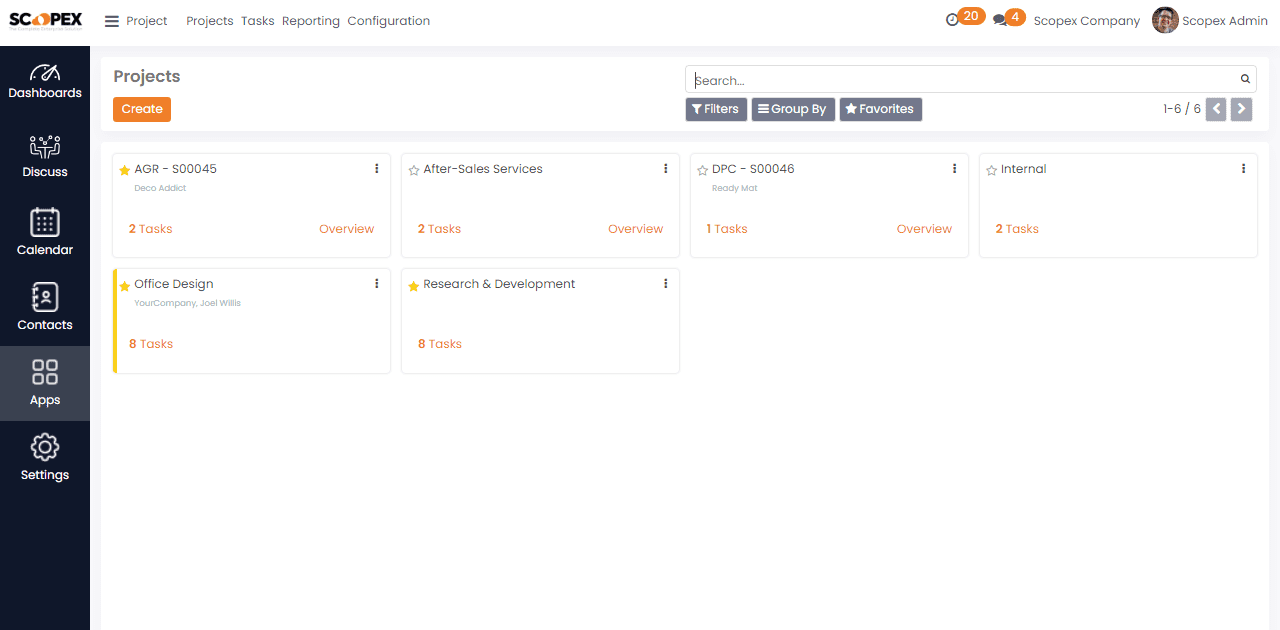 Integrate top work tools and work efficiently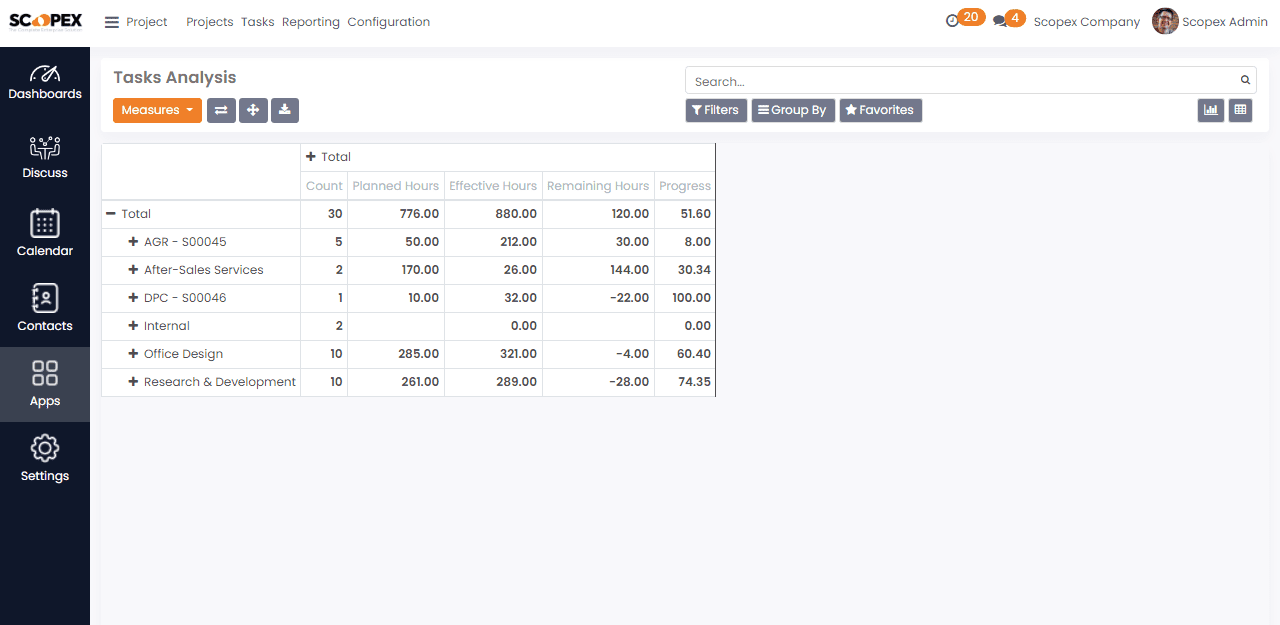 Integrate with task management tools, team collaboration tools, timesheets, and other apps that enable the management of the projects and products from end to end. 
Track the hours spent on the project using the smart timer.
Turn quotes, sales orders, PO's into invoices in one click.
Automate of signing process of the contracts.
Features to keep your team at peak of success
Empower your team with a powerful tool. Enable the team to quickly set up and customize workflows from meetings, projects to task settings.
Easily assign recurring tasks on a defined time frame. 
Track the time-lapse using Time in and out while working on a specific task that is auto-recorded in the user's timesheet.
A functional graph view for every task of different projects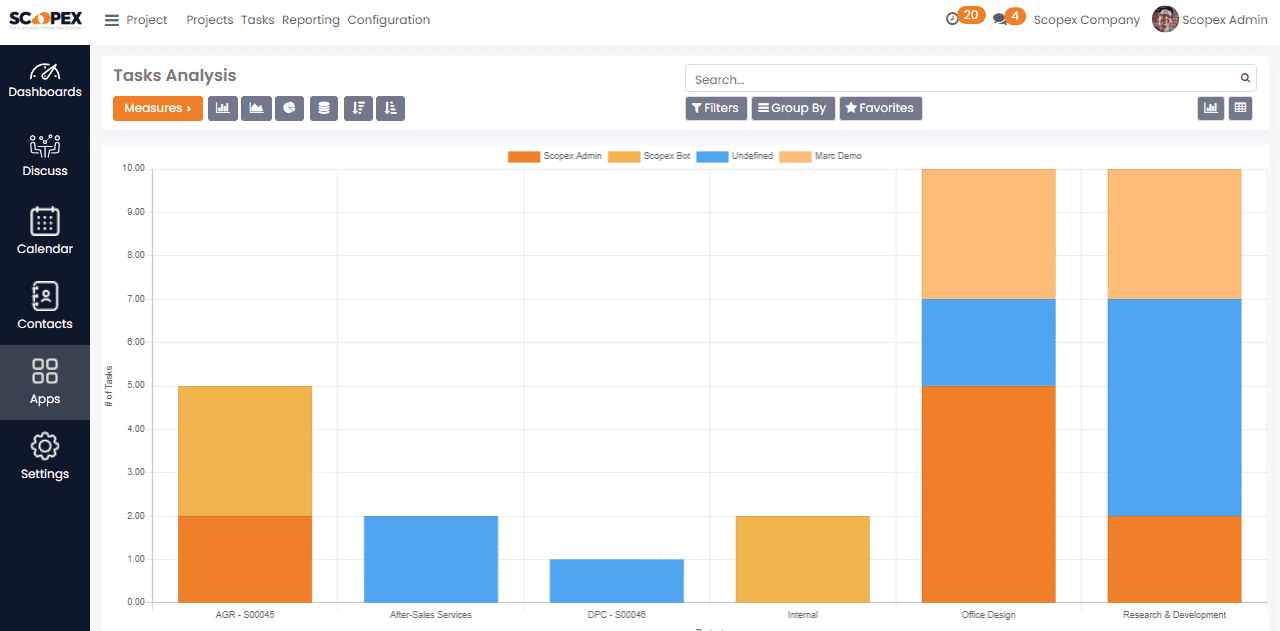 Track and maintain your projects from any level by analyzing the data using a search tool, filter and grouping function, and unique visual interfaces.
Get an accurate report of projects and tasks on a weekly, monthly, and yearly basis and track projects and tasks progress, deadlines, dependencies, etc.
Move your project without going over budget.
Generate customizable reports based on numerous groups by criterias and filters.
Plan and execute a project of any size.
Get a dedicated dashboard and efficient overview of your projects.
Keep track of deadlines with a clear calendar view
Allocate the necessary time to specific tasks under a planned timeframe.
Generate quantitative reports and analyze the project's time plans to estimate deadlines more accurately.
Get forecast tools to predict project revenue and resources to enhance profitability. 
Manage multiple projects at a time efficiently.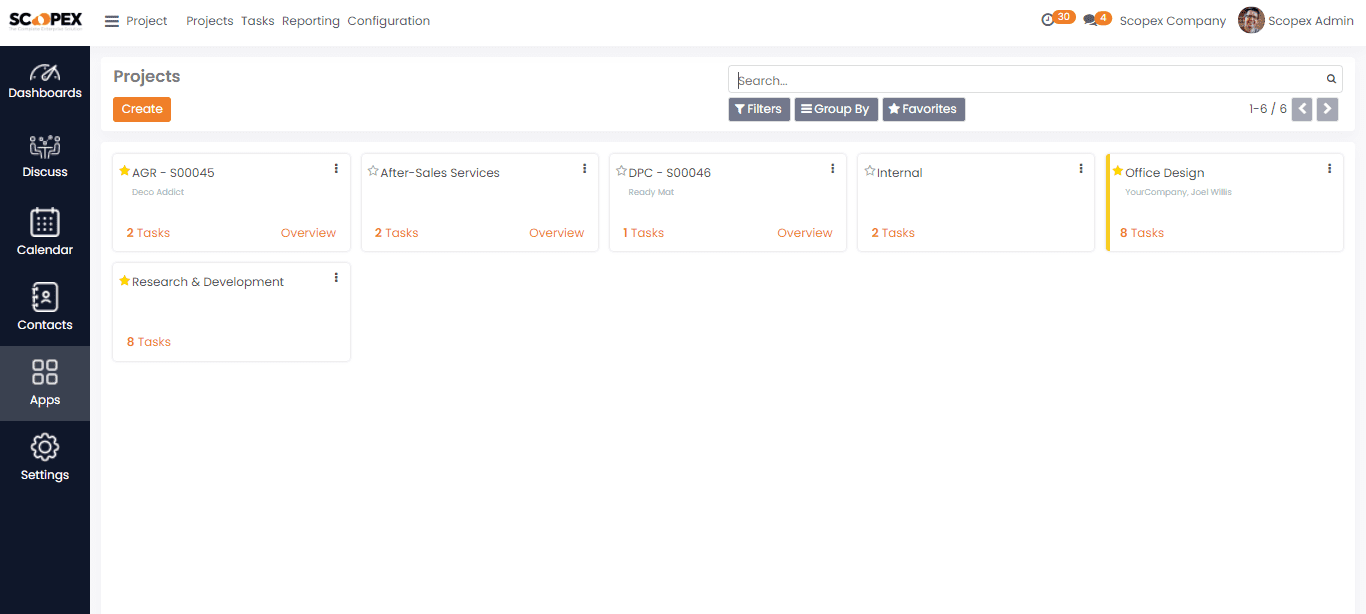 Timesheets that record and consolidate the hours spent by an employee over the specific project/task.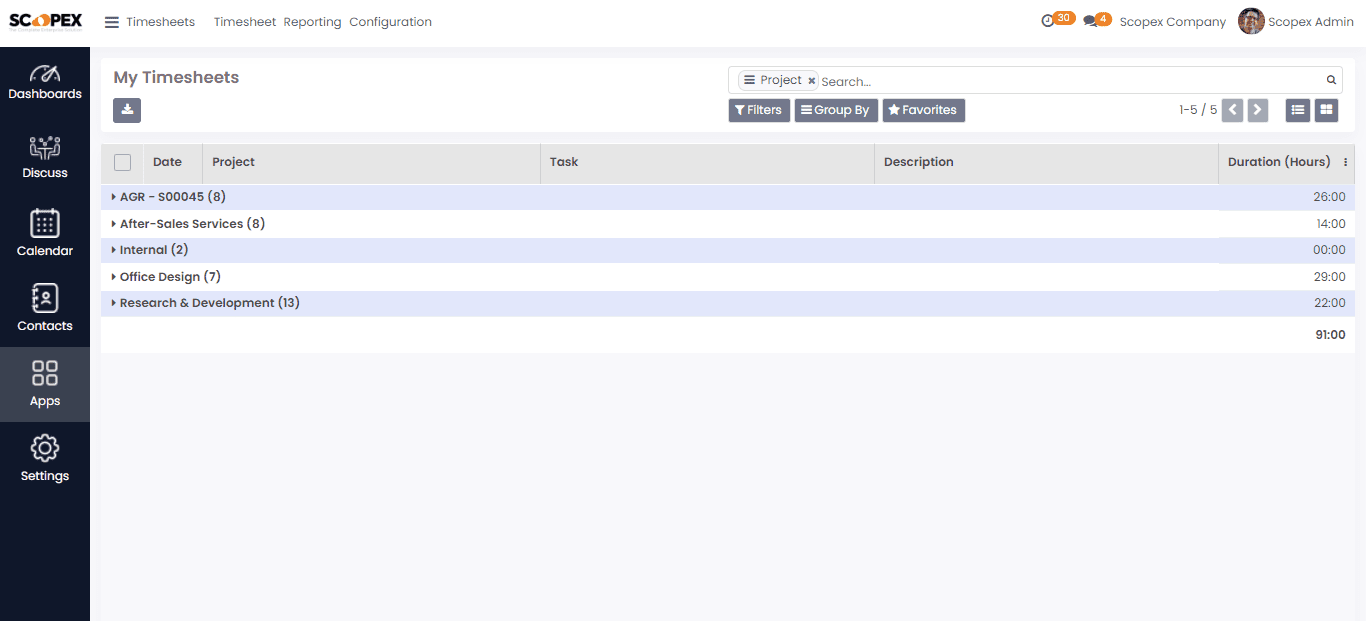 Create a timesheet for each task.
Get all project and task activities integration with timesheets.
Timesheets offer employees productive -work-time spent on the task.
Establish seamless integration with other Scopex modules.
Get the history of all activities in a document.
Offers Smart filters and manages the task on the timeline with Gantt chart view, list view, Kanban view.
Create, assign, organize, and track hours spent on the project tasks using the smart timer.
Create custom tasks and sub-tasks.
Generate reports on the analysis of tasks.
Define multiple tasks and subtasks and manage them efficiently.
Establish seamless integration across other Scopex modules to operate projects and tasks effectively.
Allows you to drag and drop the stages of tasks to prioritize tasks based on business needs.
Track resource availability with seamless integration with the leave module.
Use live chat within a single interface. Add quicker notes and attach the file to any tasks.
Offers smart-timer to start, pause and stop the task anytime.
It offers Live chat, quicker notes, and attach the file in a single interface.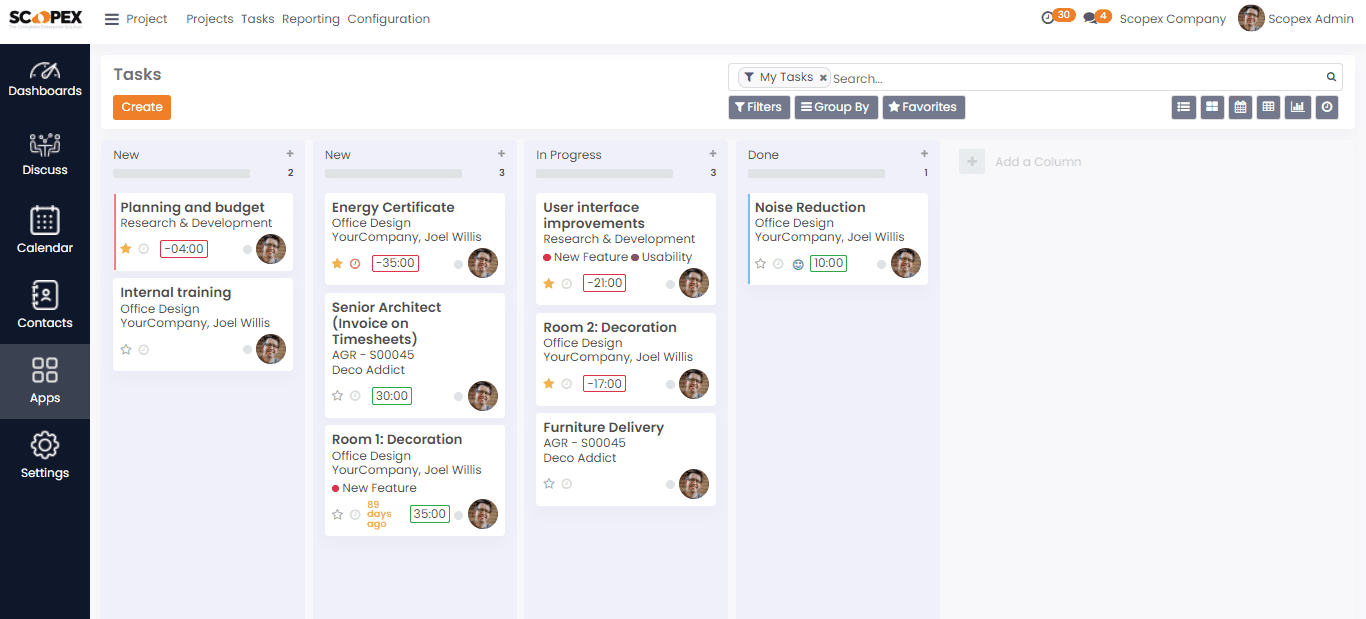 Save your time with a centralized database. Avail the data of all communication, meetings, presentation.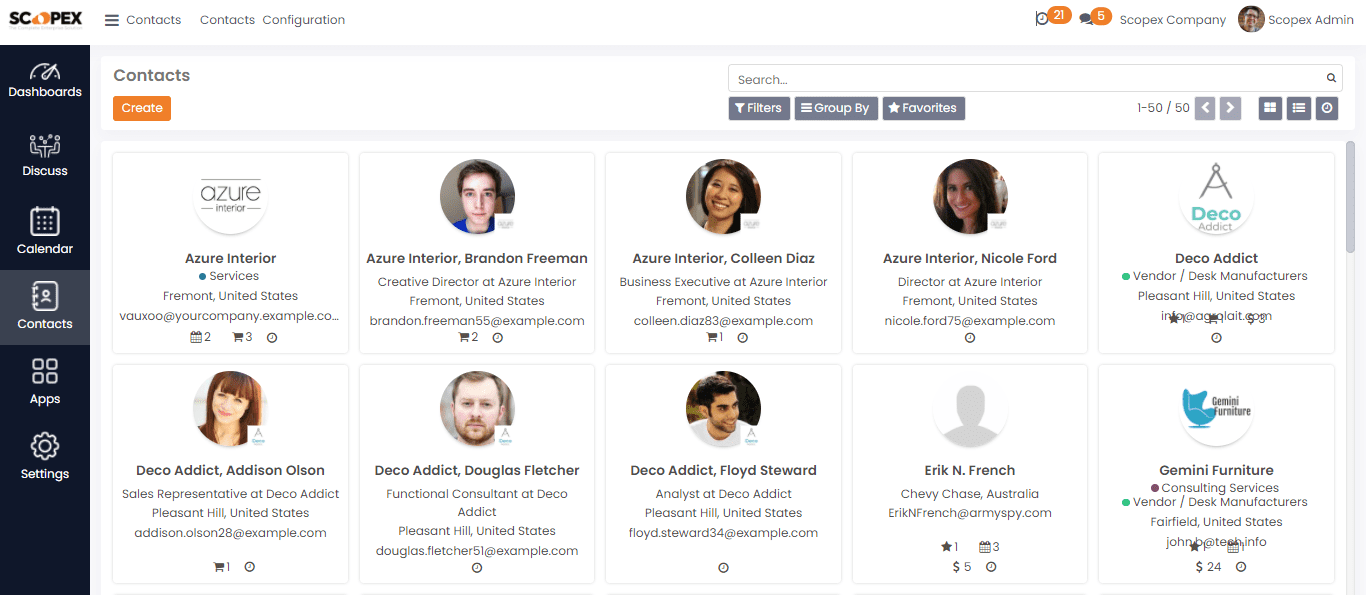 Seamless integration enables the comprehensive overview
Manage different types of contracts very easily.
Use live chat within a single interface. Quicker notes and attach the file to any task and stay connected with your team.
Automate the signing process of your contracts.
Turn quotes into professional-looking invoices in one mouse click.
Know who is doing what in real-time for accountability and optimize resource allocation.
Track resource availability in real-time.
Seamlessly integrate across various Scopex modules to carry out the project effortlessly.
Simplify the project process and enhance workforce collaboration. Stay connected with the team in a single interface.
Schedule employees across the projects considering their holidays.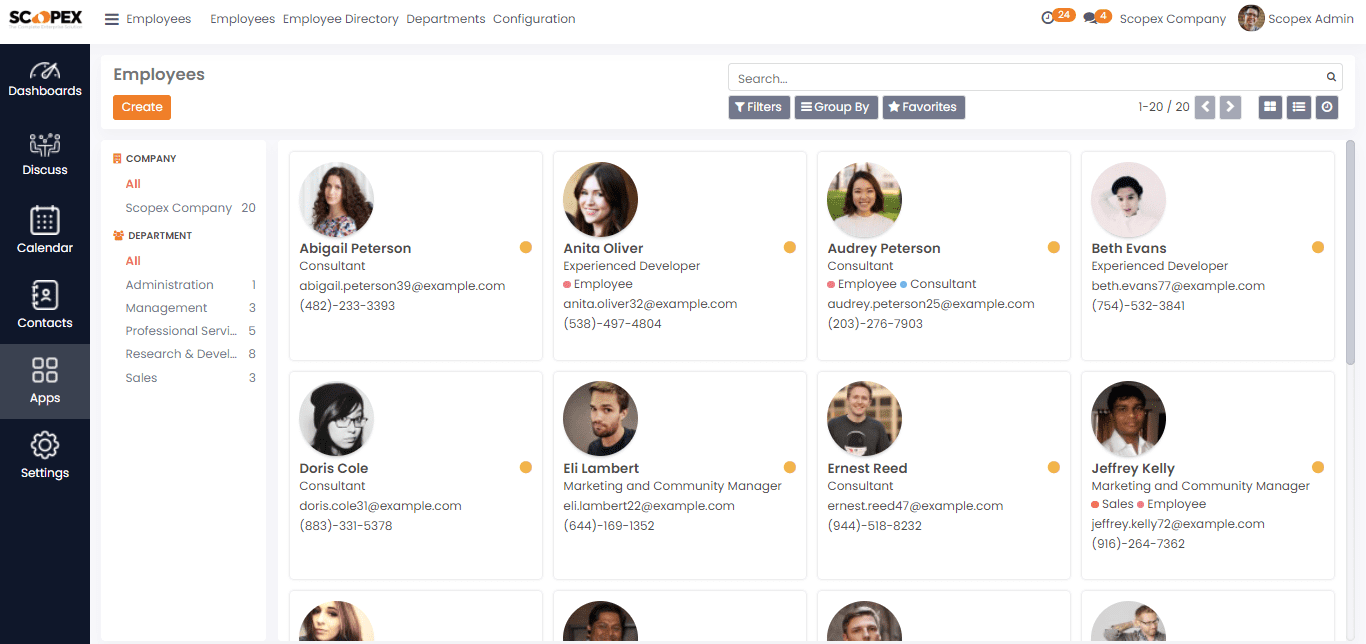 Scopex Apps provides a FREE Demo to all its client to play around with the product & get to know if it suits their business. Scopex apps also offer a 1 to 1 free demo session to explain how you can use Scopex apps for your business.
Scopex Apps provides a FREE Demo to all its client to play around with the product & get to know if it suits their business. Scopex apps also offer a 1 to 1 free demo session to explain how you can use Scopex apps for your business.
Why choose Scopex Project Management Apps?
Scopex Project management App automates many reporting and workflow processes and manages your project effectively from planning to execution.
Frequently Asked Questions
Working remotely was challenging until we find SCOPEX. It saved our time with automation and worked a charm for both management and employees.
Scopex helped us manage nearly 20 simultaneous projects and we could collaborate effectively with our clients, providers, and subcontractors.
We have noticed a significant improvement in communication, increase accountability as a whole and a tremendous reduction in errors at work. A big shoutout to SCOPEX APPS!!